Nowhere else on the planet you will find together the intoxicating blue of the Aegean, embracing the sparkling white of the houses, the fragrance of the dry earth mingling with the fresh smell of seaweed, the roundness of the pebbles on the beaches and that incredible clear light with its rays penetrating deeply into the boundless blue! Even the fish are unique in their colors or the way they react!
Although many people consider as top diving destinations the Carribean or the Red Sea, the Mediterranean underwater landscape has much to offer to the human eye. The Mediterranean Sea gives life to 650 species of fish, to seals, dolphins and thousand of invertebrates, while special mention should be made of the well-known sea grass Posidonia, which replenishe the oxygen in its waters.
In Crete you will find many organized and experienced diving centers right on the beach, offering multiple diving courses and activities for people of all ages, in order to explore the beauty of the Mediterranean. Scuba diving is for everyone, even for children of 12 years or more, allowing you to enjoy this activity with your family and friends.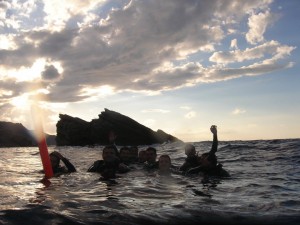 Discovering scuba diving in the safe and warm water of Crete is an experience you shoudn't miss. Not only beginners but also experienced scuba divers and free divers from all over the world have found in Crete their secret paradise for diving training, or just relaxation by joining day trips for snorkeling, BBQ or picknik to beautiful small islands, organized by local diving centers.
For beginners the Discover Scuba Diving course by the world famous Padi organization is designed exclusively for people with no precious experience in diving. Beginners learn the basics required in order to dive under the guidance and Supervision of a Diving Instructor.
If you are interested in becoming a diver and getting a certification most of the courses can be completed in a few days, allowing you to become a certified scuba diver by Padi, IANTD or another organization. Your certification is valid all over the world and by showing your Scuba Diver Card you can combine yout future vacation with diving at any place you choose to visit. Most of the courses include theory and practice through fascinating underwater training, as well as examination in the end of the course. All equipment and diving is included in the price of the course and you can always try to arrange a better price if you are a group of people and not an individual.
You can find various scuba diving centers in the South and North of Crete. Popular location close to Heraklion, the largest city of Crete, is Lygaria, Agia Pelagia and Bali.
Additional information on courses, activities and prices you can find here.